Archived News
Narrowing the causes of honey bee losses
Researchers seek to explain "colony collapse disorder."
15 Jan 11 By Brad Burbaugh
Bees are the most ubiquitous pollinators of agronomic crops, and the unexplained disappearance of these pollinators has scientists, beekeepers and farmers worried.
British Beekeepers Association Endorses Bee-Toxic Pesticides for Cash
14 Jan 11 By Ariel Schwartz
Chemical companies aren't the only ones looking the other way when toxic insecticides trigger mass honey bee deaths. The British Beekeeper's Association (BBA) recently admitted to selling its logo to four toxic European pesticides--Bayer's Decis, BASF's Contest, Syngenta's Hallmark and Belchim's Fury--in exchange for $277,357. The endorsement deal has been going on since 2001.
Dale Named 2011 WISCONSIN State Honey Queen
14 Jan 11 By Wisconsin Ag
A Sparta women will be creating a lot of buzz about the state's honey industry during the coming year. Danielle Dale has been selected as the 2011 Wisconsin Honey Queen during the state honey association's annual convention. She replaces outgoing queen Abby Tracy of Watertown.
Modifying mites 'not the answer'
11 Jan 11 By
Genetically engineering varroa mites to self destruct is no solution for New Zealand beekeepers, says the Soil and Health Association. "Any future for New Zealand does not include genetically engineered mites being carried around New Zealand on the back of honeybees," said Soil & Health - Organic spokesman Steffan Browning.
Bee keepers buzzing again as scientists fight the mites
13 Jan 11 By The Berwick Advertiser
BEEKEEPERS in the Borders and north Northumberland are taking great encouragement from scientists' claim that they have discovered a natural way to make the deadly varroa mite, the biggest killer of honey bees worldwide, self-destruct. The blood-sucking varroa has developed resistance to medication and is particularly feared by beekeepers in winter as depleted colonies do not have enough bees huddling together to keep warm.
Honey laundering: The sour side of nature's golden sweetener
06 Jan 11 By JESSICA LEEDER
As crime sagas go, a scheme rigged by a sophisticated cartel of global traders has all the right blockbuster elements: clandestine movements of illegal substances through a network of co-operatives in Asia, a German conglomerate, jet-setting executives, doctored laboratory reports, high-profile takedowns and fearful turncoats.
Swarm of beekeepers challenge proposed zoning ordinance that would sting practice
06 Jan 11 By Howard Greninger
TERRE HAUTE — Beekeepers have been abuzz with concern over a proposed updating of Vigo County's zoning ordinance, which would limit a person to one hive for every 10 acres of land owned, unless zoned for agricultural purposes.
Viruses Plaguing Honeybees May be Spreading to Wild Bees
29 Dec 10 By Jeannie Moulton
We depend on bees and other pollinators to pollinate our crops to produce food. In recent years, there has been a marked decline in the number of pollinators due to colony collapse disorder (CCD) – a syndrome that wipes out entire colonies of domesticated bees. The exact cause of CCD is unknown but it is thought to be a virus and it doesn't appear to yet affect wild pollinators.
EPA Defends Approval of Bayer's Bee-Killing Pesticide
28 Dec 10 By Sarah Parsons
A few weeks ago, Change.org brought you news that the Environmental Protection Agency (EPA) turned a blind eye to clothianidin, a pesticide fingered as a culprit in Colony Collapse Disorder (CCD). Then just last week, the maker of said pesticide, Bayer CropScience, stood by the substance, saying it was perfectly safe for honeybees. Now it's the EPA's turn to defend itself — or rather, dodge and deny environmentalists' allegations about the agency
Scientists wage war on varroa mites
24 Dec 10 By Unknown
As the mercury dips into the teens, you are not likely to envision burgers on the grill and honeybees dancing on freshly blooming wildflowers that make mid-April evenings so pleasant in the Queen City. Honeybees? Did I just mention honeybees in the throes of winter? Yep, and if you are one of the hundreds of urban beekeepers in Mecklenburg County, the tiny insects are never far from your thoughts, regardless of the season.
Genetic breakthrough in fight against honeybee killer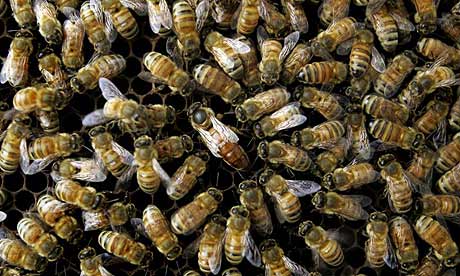 22 Dec 10 By Guardian.co.uk
Scientists have developed a chemical-free technique that could make the deadly varroa mite self-destruct
A breakthrough in the battle against a deadly mite responsible for decimating the honeybee population has been welcomed by conservation groups. The varroa mite is the biggest killer of honeybees and has become resistant to medication developed to destroy it. But now scientists have identified a genetic technique that could stop the mite in its tracks. Researchers from the government's National Bee Unit and Aberdeen University have worked out how to "silence" natural functions in the mites' genes. Alan Bowman, from the University of Aberdeen, said: "Introducing harmless genetic material encourages the mites' own immune response to prevent their genes from expressing natural functions. This could make them self-destruct.
Beekeepers say weed control will sting them
20 Dec 10 By Todd A. Heywood
Michigan beekeepers say an initiative to rid the state of an invasive species could hurt their business, according to a report by the Associated Press.
The Michigan Department of Agriculture and the U.S. Department of Agriculture have teamed up to introduce a bug that feeds on the invasive spotted knapweed plant. The plant produces a chemical which inhibits the growth of other plants and chokes out native species. But beekeepers like the plant because it blooms later in the summer when many native plants aren't blooming. That gives their bees access to needed nectar to continue making honey.
Amateur beekeepers' winter chores: worry and make lip balm
18 Dec 10 By Amy Wilson and Angela Baldridge
Treat the 25,000 pets for mites with powdered sugar? Check.
Kill their lingering fungi with medicine-laced sugar water? Check.
Freeze the bejezus out of their now-abandoned homestead so we can reuse it next year? Check.
For about a week, our bees are the most ideal, no-trouble overwintering pets on the planet. That is, until one of us has the great idea to ask the guy at the bee-supply store —where we're busy gloating about our summer honey haul — a question.
Boris Johnson's Capital Bee scheme criticised by beekeepers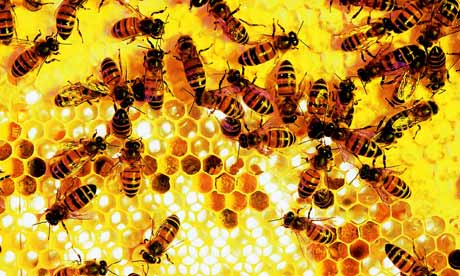 16 Dec 10 By Alison Benjamin
A bid to boost beekeeping in London by mayor Boris Johnson today has come under fire from beekeeping associations, who say the capital is already saturated with inexperienced beekeepers. Johnson's Capital Bee campaign, which will offer up to 50 community food-growing groups the chance to keep bees, hopes to boost beekeeper numbers in the city and halt the decline in bee populations. But London beekeepers' associations accuse him of "jumping on the bandwagon" of the huge growth in the popularity of beekeeping.
EPA Memo Shows Pesticide Harms Bees
15 Dec 10 By Jake Richardson
An EPA memo that wound up in the hands of veteran beekeeper Tom Theobald identifies a common pesticide as directly harmful to honey bees. Clothianidin was first registered in May 2003 but that registration was dependent on a study being conducted which would show it was safe for honey bees. However, the study was flawed, and the EPA memo that was leaked shows they were aware clothianidin was harmful to bees, yet they had allowed it be sold and used, and in doing so also probably allowed many bees to be harmed or die.
EPA Can't Tell Difference Between "Beekeeper" and "Bee-killer"
14 Dec 10 By Michael van Baker
First, how does "Environmental Dereliction Agency" sound? I feel like "Protection" is really giving people the wrong idea about the actual results of EPA regulation. Second, I should warn you that if you continue reading, you'll be begin to wonder how we're all not dead yet. Thanks to Grist's Tom Philpott, I was just alerted to the leaked EPA documents that show the agency's fumbling approval of a broadly used, very toxic pesticide.
More Dougherty Co. bees are Africanized variety
13 Dec 10 By Jennifer Emert
ALBANY, GA (WALB) – Two additional colonies of Africanized bees have been found in Dougherty County near the area where a man died from an attack. The colonies were destroyed immediately. Entomological tests confirmed that Africanized honeybees were responsible for the death of Curtis Davis in October. It was the first record of the strain in Georgia.
Beekeeper Who Leaked EPA Documents: "I Don't Think We Can Survive This Winter"
13 Dec 10 By Ariel Schwartz
Colorado beekeeper Tom Theobald never expected to become embroiled in a controversy between the EPA and the pesticide industry. But that's exactly what happened when Theobald got hold of an EPA document revealing that the agency is allowing the widespread use of a bee-toxic pesticide, in spite of warnings from EPA scientists. So how did Theobald (pictured above) end up with such a contentious document?
Beekeepers want government to pull pesticide
09 Dec 10 By Susan Salisbury
Beekeepers and environmentalists Wednesday called on the U.S. Environmental Protection Agency to remove a pesticide that could be linked to colony collapse disorder from the market and to issue an order to stop its use.
The request to EPA Administrator Lisa Jackson from the American Beekeeping Federation, headed by Florida beekeeper Dave Mendes, and five other groups follows the leak of a Nov. 2 EPA memo about the product.
Georgia stays on the lookout for 'killer bees'
08 Dec 10 By Lee Shearer
ATHENS, Ga. - It may be only a matter of time before Africanized honeybees - so-called killer bees - reach all the way to Athens and Northeast Georgia, according to University of Georgia bee researcher Keith Delaplane. The feared bees made their first appearance in Georgia this October, killing 73-year-old Curtis Davis of Albany as he was driving a bulldozer that disturbed their nest.